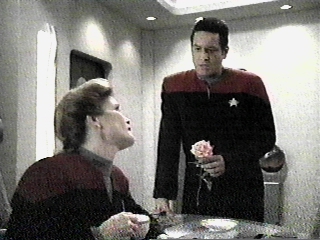 Ronda's reasoning:
I love the idea of a J/C pairing. Chakotay is the only person the Captain could really be that close to. "Resolutions" really sealed it for me. I love the "Angry Warrior" story Chakotay shares with her. That scene and the massage scene were among my favorites. They have so much chemistry with each other.
Episodes to take note of:
Season 1 -
Caretaker
Parallax
The Cloud
Cathexis
Season 2 -
The 37's
Elogium
Alliances
Resolutions
Season 3 -
Sacred Ground
Q and the Grey
Coda
Season 4 -
Scorpion
Year of Hell
Hunters
One
Season 5 -
Night
Timeless
Dark Frontier
The Fight (note from Cheile - okay, it sucked, but it's worth a mention cause she touched his face!)
Season 6 - who knows....? ;-)

Fanfic:
Peaceful Warriors
-- Janeway and Chakotay begin a relationship on New Earth and discover via a vision quest that the crew wants it to continue once they return to Voyager. (WARNING - this story is rated NC-17. Children under the age of 18, do not read!)

Extras:

Email me!